As I woke up, it was raining a lot! Wasn't that happy with that, but what can one do…
Had small breakfast in Hotel Beer before packing.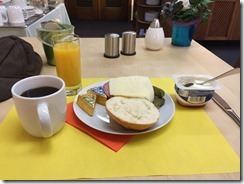 Breakfast room had some interesting decorations.
Bike was still found where I left it yesterday.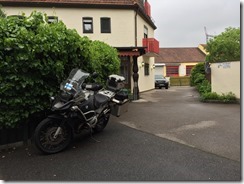 Before leaving Munchen I made one final visit to local BMW Motorrad dealer to try out some new riding gears.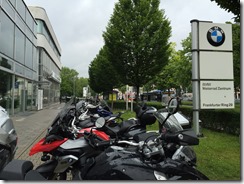 Left with empty handed as they did not give any discount on those, will order those later on from some online-store cheaper. Can do that now that I know what my current size is (getting one size smaller than current one! Go figure…).
As I was leaving BMW store, rain had also stopped. Good for me as I did not have gore-text linen on my trousers, only on jacket.
Next was to drive 212km to Stuttgart and stop for few hours there for a meeting.
By 16:30 I was again ready to continue towards my next destination, P'tit Dej Hôtel Relais de Rixheim in Mulhouse.
Rain was trying to catch me, but I decided to make some adjustments to my route and managed to get around it. On this part of the journey I also came across a closed road on mountain area so I needed to take some 30km extra detour because of that, but after 259 km I finally made it to the hotel.
As I arrived quite late (after 8 pm), hotel restaurant was already closing I did not get any food from my hotel. Wasn't that worried on that as I had seen one just few hundred meters away so decided to take a walk there after getting all the stuff into my room. Before leaving I washed my driving underwear and hanged them drying in the bathroom.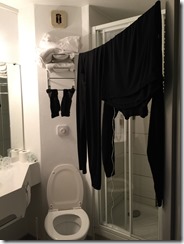 Hotel stuff talked excellent English, all credits for them on this.
Other restaurant was then more complicated: It was some Chinese (or something) place with just buffet which was closing as well in 20 minutes or so and I was not ready to pay 16,50 euros for eating very fast already almost cold stuff. At this restaurant they did not want to understand any English so I decided also to forget all of my language skills and switched to Finnish.
Didn't remember how arrogant these French people are, but got very good and rude reminder on this so from now on it is Finnish only until they talk English first back to me.
So because of this language barrier there was no way to negotiate anything else to eat, I left with empty stomach back to hotel and went to sleep. Can manage one evening without food very well. Hotel Wi-Fi wasn't that excellent either so no need to hand in internet for any reason either.
Total driving for this day was 470 km in 7 hours.

Total for the trip is now 2476 km.