Day started with a small breakfast at 08:00.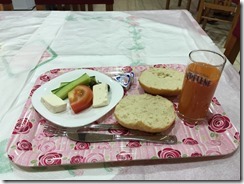 I was not in any hurry since this was may day off from riding. For the morning I had to go to the harbor to pick up a ferry ticket I had booked earlier to travel from Vlorë to Brindisi. I chose this line because it was running during daytime and was relatively short in time, only 4,5 hours travel time.
Next was to pack my stuff into bike again, this time also riding trousers, jacket and boots were loaded into the bike as I was not going to sit with all my riding gears on for hours on a ferry.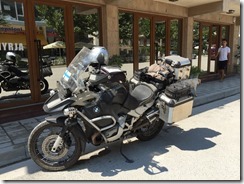 By 11:00 they kicked me out from the hotel which was good to me as well as they had told me in the ticketing office that I should be there by the gate between 11-12 to check-in.
As it turned out, I was there quite early, passport check and check-in went smoothly in less than 5 minutes and I went to wait for boarding.
At the ferry there was a crew member to really tie down the bike, not like on Nordic ferries where you need to do everything on your own.
Ferry seems to be some old 1965 built one from Norway, everywhere there were written in Norway.
After this started waiting – and waiting.
After some 3 hours they announced that boarding is complete and little less than hour later ferry took off.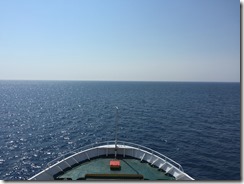 After sleeping, listening music and sleeping and so on ferry finally arrived into Brindisi harbor. It was some 45 minutes late although it left a bit earlier.
And then we waited some more as all the passengers by foot were to exit first and only then cars and motorbikes. Reason being probably that everybody is exiting through the same exit in the back, for passengers there were no other exit available and to get into car deck they had to carry all their luggage through small stairs, no elevators working.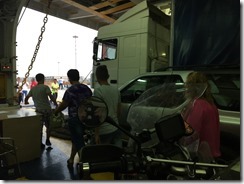 And then some more waiting at the customs and passport control. There was some lazy Italian officer who did not know what to do with this Finnish biker and his passport. I was first on the queue – of course – and everybody is waiting behind me.
But eventually he got it figured out and let me go.
Drove directly to the Il Giardino Delle Sete B&B. Had some language issues there, no English spoken but with a little help from Google Translator those were solved.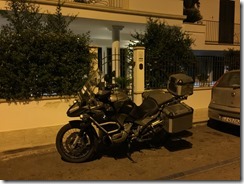 Walked to the old town for dinner, some 1,5km walk there and same back.
Found an pizza place and got pretty decent Diavolo.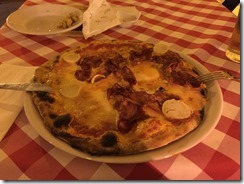 For once I was not there too late, everybody else was eating at this time as well.
Some walk around old town and day was done.
This day's driving was only 25 km, but it took 10 hours to finish.

Total for the trip is now 4021 km.