Had a small breakfast, nothing fancy but again got me started. Lots of other people there as well.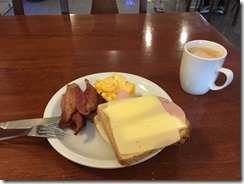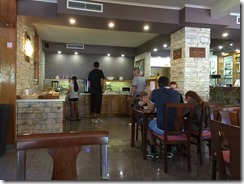 After this I packed all the stuff and drove short 100m to the reception to pay for the room. Sun was already shining but has not yet warmed up the air as it was only around 25°C but warming up quickly.
Around 09:30 I was on the road again, hoping to get into similar small roads as yesterday. At first needed to ride this bigger road that every other biker is riding through Plitvice Lake National Park. I was not planning to visit that now, need to do that on another trip.
Soon I came to crossing where I would turn east and to my big surprise there was waiting quite new road in perfect condition. What an disappointment! It was a nice mountain road although, going up to a bit over kilometer high, but I was expecting a little less than that.
Did a short break at Knin to spend my last Croatian money on fuel and ice cream.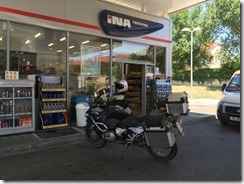 After this was time to drive to Bosnia and Herzegovina's border, short 15 km ride or so. At the border they asked for the first time bike's papers, especially the Green Card and also looked at very carefully my passport with all the stamps and Visa's from eastern countries like Armenia.
But soon I passed through and continued riding another perfect asphalt road where lots of other bikers were also coming towards me. Again an disappointment to find out that road was too good for my purposes.
Did another break just by the road, not much other options as there were no real parking places other other smaller roads were to turn, just this one big road.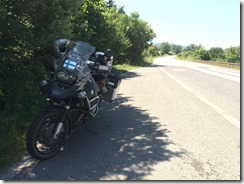 One thing I noticed while driving that all the buildings look rather new or newly done, but be due to the war in the past years. If there were left any old buildings or street signs, they were all full of holes.
Too soon I found my way to the next place to stay, Motel Lunch & Bar.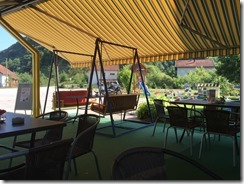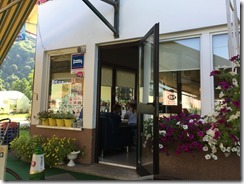 Fairly nice place for the price of it and decent food as well.
Met there a couple from Hungary with their motorbikes going towards Montenegro, we sat out there for quite some time. They invited me to come to their winery, have to see if can make it some day. Place looks really nice by looking at the pictures.
This days driving was 336 km but took only 6 hours.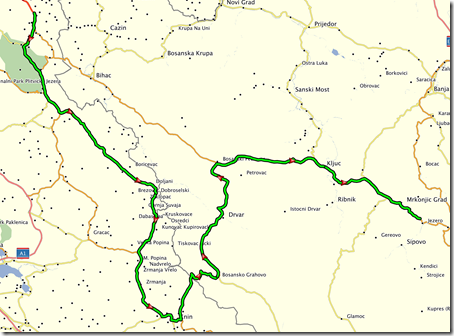 Total for the trip is now 3006 km.