Needed to wait a bit longer for the breakfast, bread delivery was a bit late there. But eventually bread came and had something to eat and not just plain coffee that was served earlier.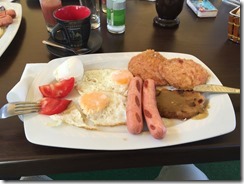 While waiting for the breakfast, owner of this place came to talk to us and told that they are growing all salads and others in their greenhouse so everything they make is home made and fresh. And food was indeed quite good over there.
By 09:45 I was ready to leave again, this time hoping to get out from the main highways and into smaller more quiet roads.
And as it turned out, most of my route was through smaller roads, two of them were getting so small that I had to turn back as there was no way of knowing how long the road would continue. Something I learned on my previous trip to Albania.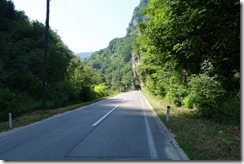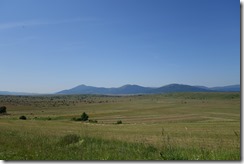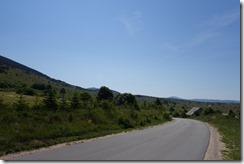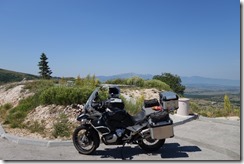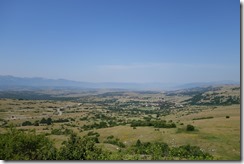 Mostly roads were in perfect condition.
I also drove around Buško Jezero, was a nice ride around it.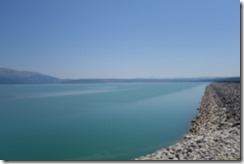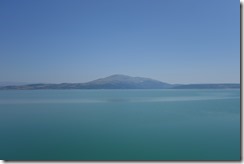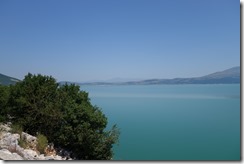 At this point temperature was already 34 degrees and raising.
When I came to Mostar it was already 39 degrees and I decided not to go and walk to the Stari Most, but just take a break on a bridge next to it.
Then it was time to drive to my next destination Trebinje. I had reserved there a room from Motel San, but had a little trouble on finding it as GPS co-ordinates nor address were not locating any motel. Eventually I found one local guy with motorbike and after one telephone call the told me to follow him to the motel. Once getting closer there were also signs showing way to this motel, but not from the direction I was coming from. Motel San is actually located in N42° 42.705′ E18° 21.158′ for all those who are wondering same thing.
Motel San was quite a nice place, clean small motel in a area that is not that nice but it had a parking and all (not secured). And air condition remote control would have been provided by extra cost.
Did quite a long walk in the city and day was done again. Nice little town that can be walked through in two hours or so.
This days driving was 367 km in little over 6 hours.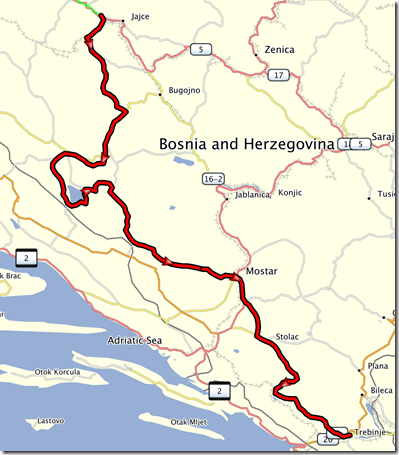 Total for the trip is now 3373 km.