Had an lazy morning due to the fact that check-in into my next hotel was going to be earliest at 17:00. So slow breakfast was in the program.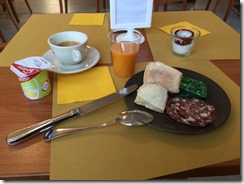 Little before 10:00 I was ready again and all packed towards Villa San Giovanni which is where the ferry leaves towards Sicily.
Got the ticket from the ticket office few hundred meters before the dock and then waited for ferry to arrive. Ferry goes every 40 minutes and crossing takes about 20 minutes.
Once on Sicily side had a quick stop to refuel the bike and then started driving by the coast line. After an hour or so I got into mountain area and this was again where the fun began. Really nice mountain roads, good asphalt, bad asphalt and great views.
Up in the mountains there were also lots of abandoned villages, here's one of those that I drove through.
And then there was a section which started like this: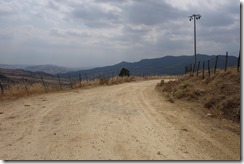 And later turned into stony gravel road: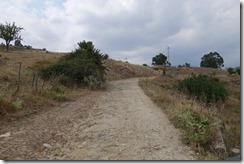 My bike got into some work on this trip as well! After riding this some 20 km I was all done and sweating too much. Was glad that it was over and got into asphalt again. Temperature at this point was around 33 degrees.
Eventually I got into hotel Siciania, small hotel ran by French couple in the middle of nowhere in the city of Montedoro.
Got a room just above the entrance, very nice room with all I could think of on a trip like this: shower, bed and balcony to hang my laundry to dry.
Had walk around this city – which was quite quickly done.
And some dinner as well.
Lots of roads were skipped, absolutely no time to drive all of those. This basically means that I need to come here again to explore more of this island!
This day was 320 km in 8 hours.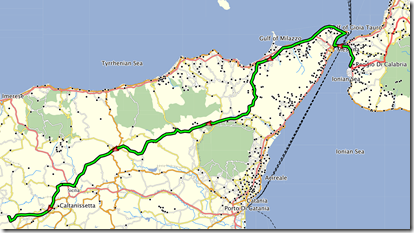 Total for the trip is now 4883 km.