Another transit day ahead – and cold morning. It was raining in the morning when I woke up!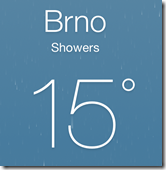 Had a quite good breakfast at Hotel Omega once I got Max up.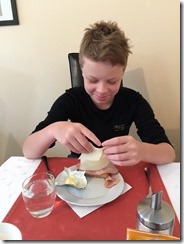 Except this *Pasta*. It was smelling really weird, like canned dog food and tasted really bad. Did not touch that.
Bike was found in the garage and all was ok, by 9:30 we were all packed and ready to drive.
Road from Brno was really fast towards Poland, quite a many road works on the way but with motorbike we just passed all the cards and continued.
Some stops to rest, take some more fuel and to get something to eat.
Other than these this was pure transit from one place to another.
Arrived into Warsaw I good time, same old hotel as so many times before. Only this time I had managed to go to the right hotel, but booking was not for this one… Lucky for me they had a room for us and I had free cancellation option for the one I had reserved.
My spot to park just outside of hotel Ibis Warszawa Central's entrance.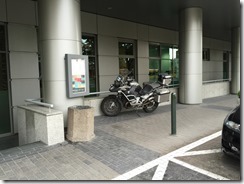 And right after we had got into our room it started raining.
But after an hour it stopped so we could make our walk and find something to eat.
This time we found an really Polish option for food – KFC. Some chicken wrap with fried chicken legs and chips. Mainly went to this place as I believe we don't have any KFC's in Finland and Max had not been in KFC. So this is experienced now as well, not sure if this became a favorite place or not but at least everything went down and tasted just fine.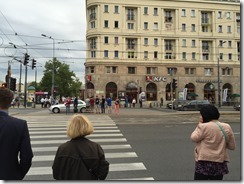 Warsaw is freezing cold for us that have got used to temperatures above 30, but good practice to what is waiting back in Finland.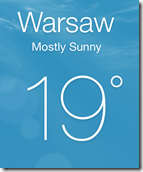 Rest of the evening went by just resting and preparing next transit day.
This day's driving was 522 km in 6,5 hours.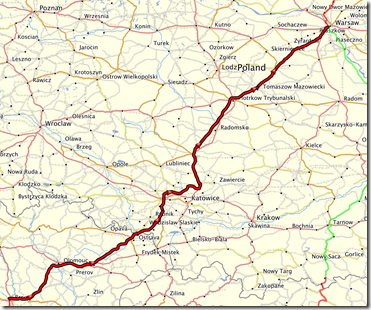 Total for the trip is now 8142 km.