In the morning did not bother to make any breakfast nor coffee, just woke up, packed and started moving forward by 7:30. Last night's dinner was still too much on its way…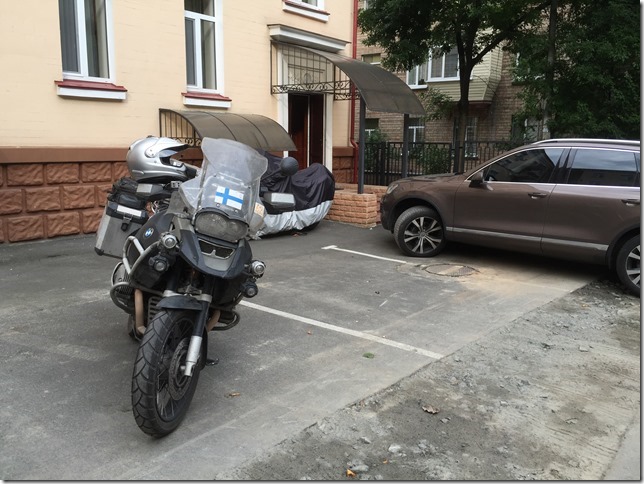 Road from Kiev to the border crossing was a known one as I have take this route already couple of times. Just one big boring road and in good condition as well.
Needed to get some fuel and also consume rest of my Ukrainian money and get full tank by paying rest by credit card. Of course this idea did not really work, they did not really understand what I was after and end result was that I got only 12L which was not really much as I had totally empty tank.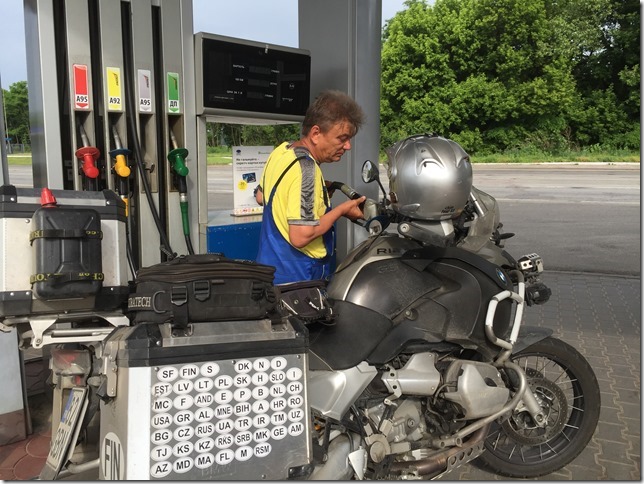 After getting fuel one stop to get water in & out.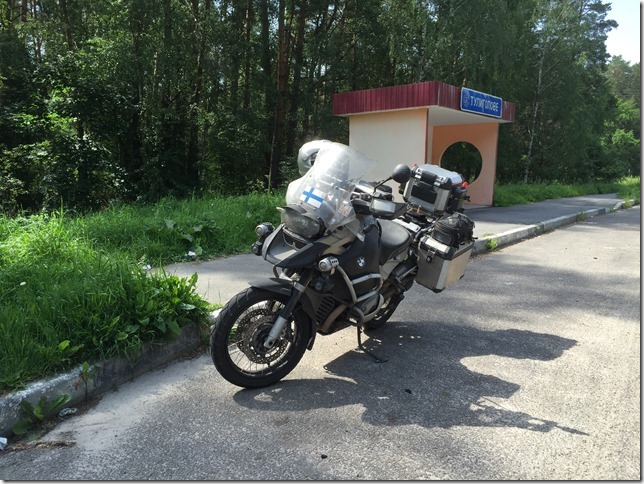 On this road there were also toilets by these bus stops, did not bother to check how it would look inside.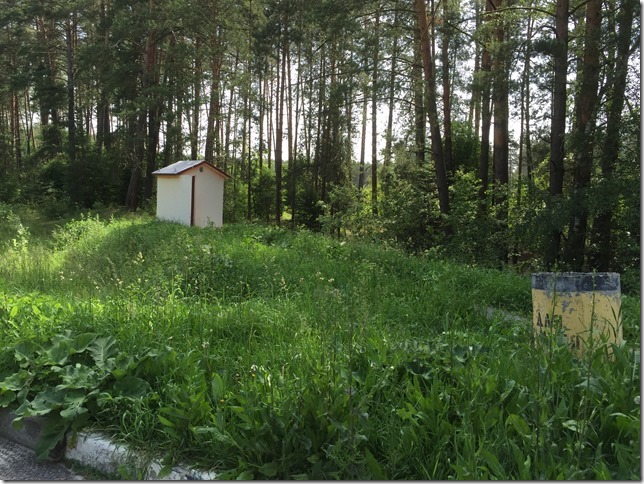 As I was approaching the border I started calculating the amount of fuel left on the tank and decided to make one more stop just in case as I was running really low again. 12L that I got earlier was not going to take me over to the Russian side.
This time I had no money left so with plain credit card it worked just fine and I finally got full tank.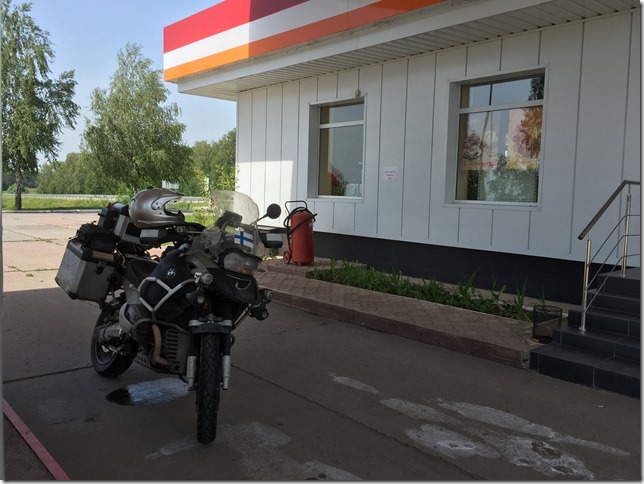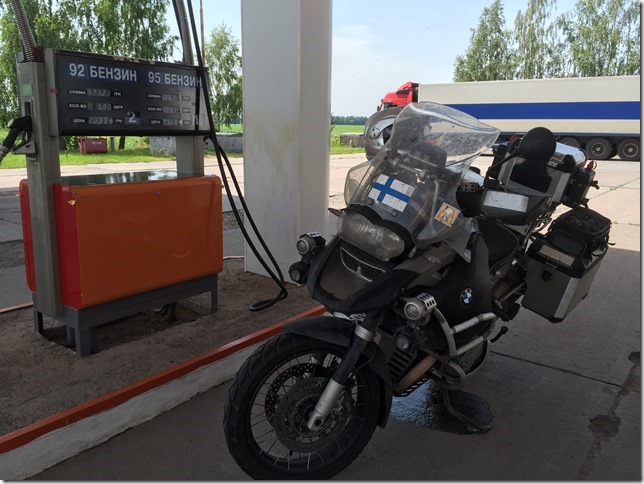 Last kilometers to the border were quite interesting: there were lots of bunkers built on strategic points on the way, obviously there had been some expectation in the past two years that something would happen here as well.
Once I got to the border there was huge queue already on Ukrainian side. I just went into head of the queue and got into passport control. This time they did not want only to see papers, but also I needed to open all bags for inspection.
On the border there was only one lane open into both directions, others were blocked by kind of bunker built from logs and also on the road itself some road blocks that everybody could not just drive through, people on the border were also looking quite stressed.
Russian border had even longer queue, again went just into head of it. Got immigration paper filled already on the gates and the guy told to wait 5-10 minutes before proceeding further and managed to fill that paper already there.
Passport control was a fast one, quick check and moved over to customs control. And then queue stopped. Nothing really was happening there. Filled the papers and this time almost correctly: just needed to fix one date and also cubic on engine as they could not read my handwriting… and then just waited. I was at the Russian border 1h and during that time there was only 3-4 cars leaving, no wonder that there was really a long queue. With car I would have spent many more hours on the border.
But finally after opening bags again for inspection I got into Russia and started driving towards Stary Oskol.
Road there was almost all the way a good one, some road works on the way and some bit worse roads.
Petteri was already waiting for me once I got there as he had looked my SPOT to see where I was coming.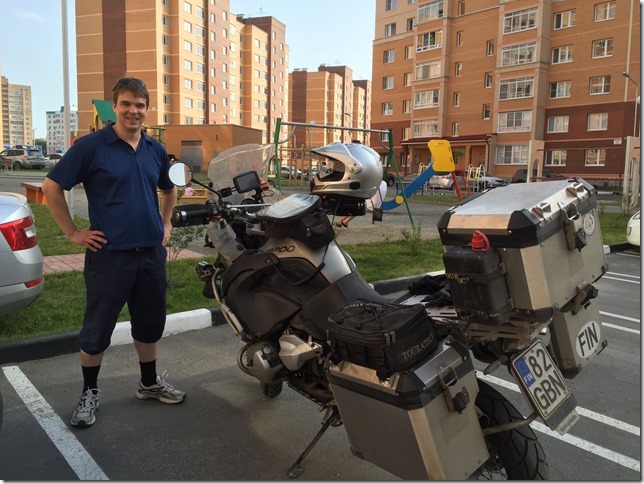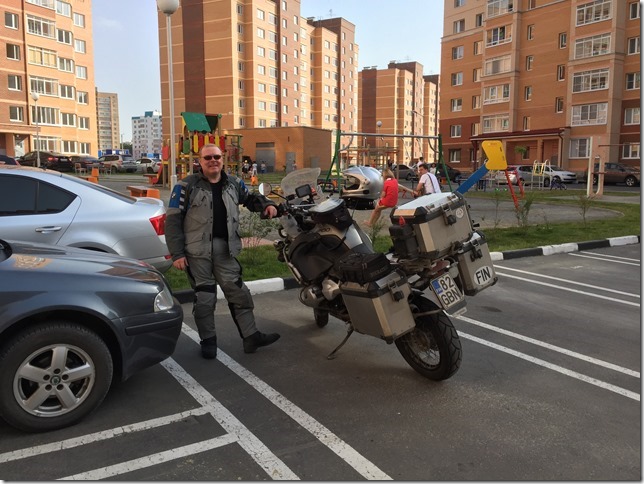 At Petteri's place got an shower and made also one of my soaps to get quickly something to eat and then later on the evening we went for a dinner in a local restaurant.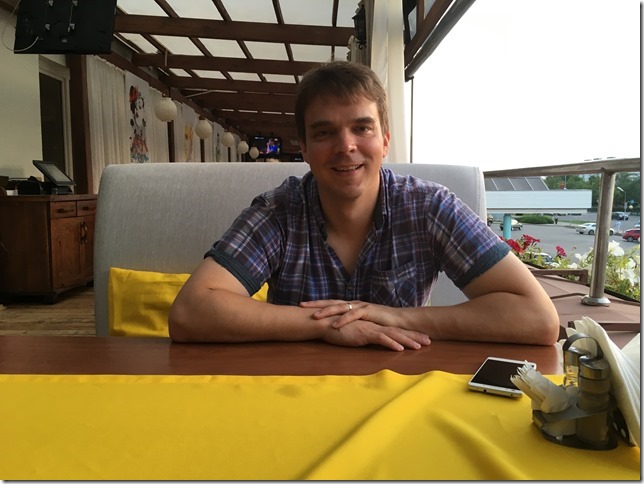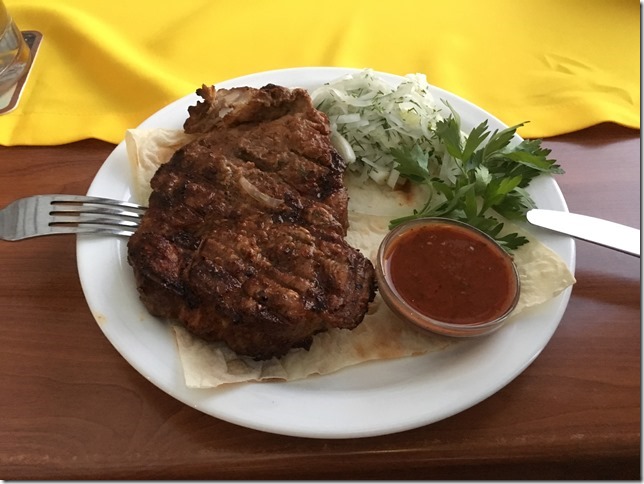 Later on some Petteri's co-workers also joined us for dinner and sat there until quite late. When we left music was already playing really loud also on the restaurant area, not just on the nigh club.
Taxi in Russia is very interesting: Petteri ordered that using an app on the phone and on the app one can specify how fast you want taxi, where to go, what sort of taxi etc. etc. No need to tell taxi driver where are you going on the taxi itself, he already had the route on the navigator when he got there. Very convenient for a foreigner who does not speak any Russian to get around!
On the way to restaurant we paid some extra for service, taxi came in 2 minutes and was a bit better one, still cost was only 150RUB (2 EUR). On the way back we paid less and got an older car and needed to wait some 5 minutes before taxi came. This time cost was only 100RUB (1,3 EUR).
In Finland they could also do something like this and also look at the cost structure as with this kind of money spent on the taxi I could also use it a lot more than currently!
This day was 661 km in 10 hours.

Total for the trip is now 7878 km.