Distance to home: 2227 km, estimated day of arrival: 8.7.2016
Day started normally after a good night sleep. Packed my things and decided to take the morning coffee somewhere on the way.
Bike waiting nicely by the parking, some cars had already left. Weather did not look that promising, dark clouds everywhere.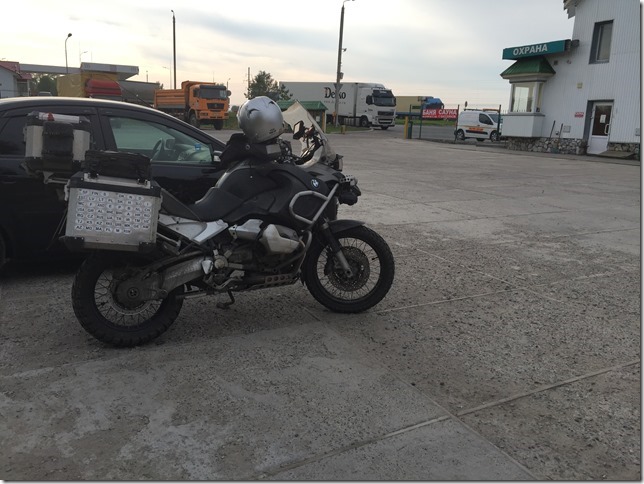 By 7:30 I was on the road again.
Road was in quite bad shape in the beginning, but eventually got better again.
After driving some 200 km it started raining quite heavily and I stopped to put rain suite on. Next stop was for fuel.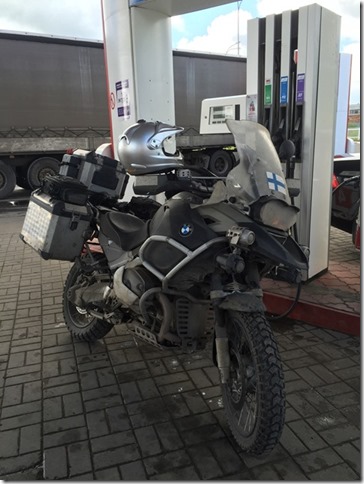 After driving some 5 hours took a break for soap again. Seems that further west I go, quality of these café's are getting worse. Food is not that great and it is also getting more expensive.
Decided also to take rain suite off as weather was looking nice again and sun was shining.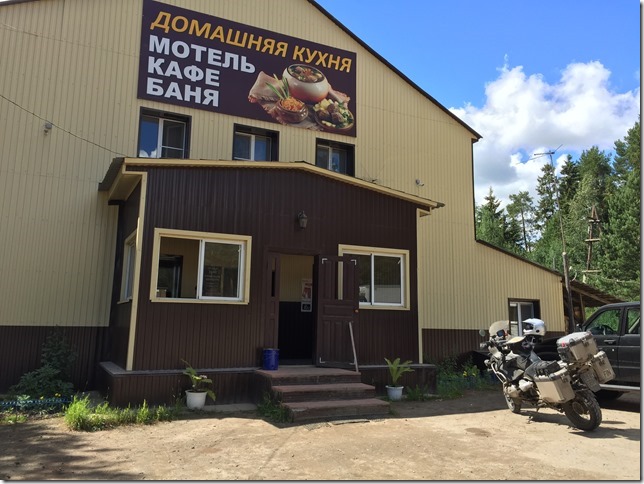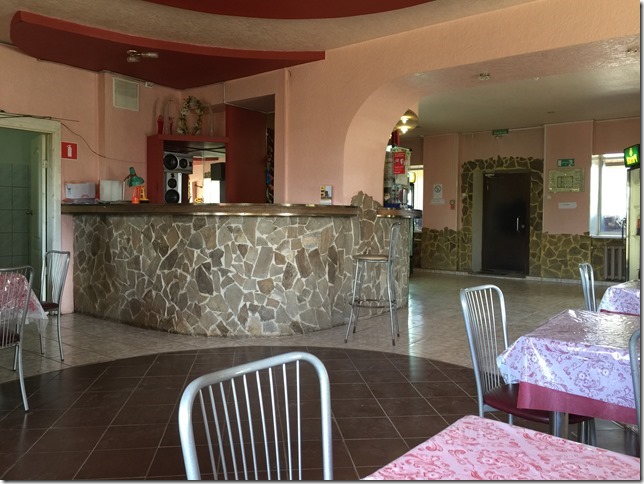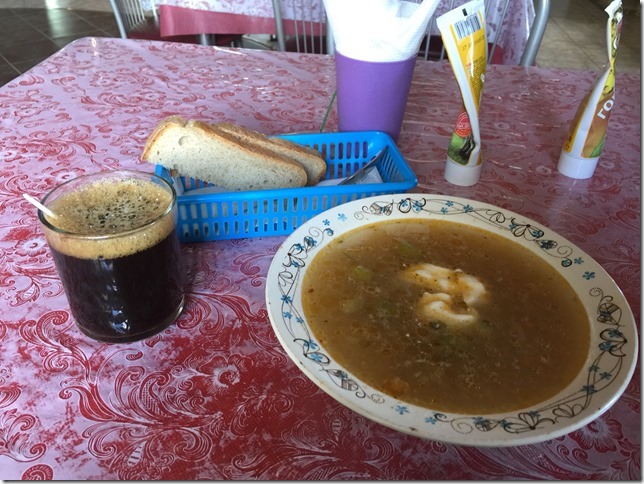 Stopped for fuel just in case as I had a section ahead of me that I looked into and it seemed that there were not too many places to get fuel. After this I would have enough to get me into next bigger city again – or in case I need to turn back.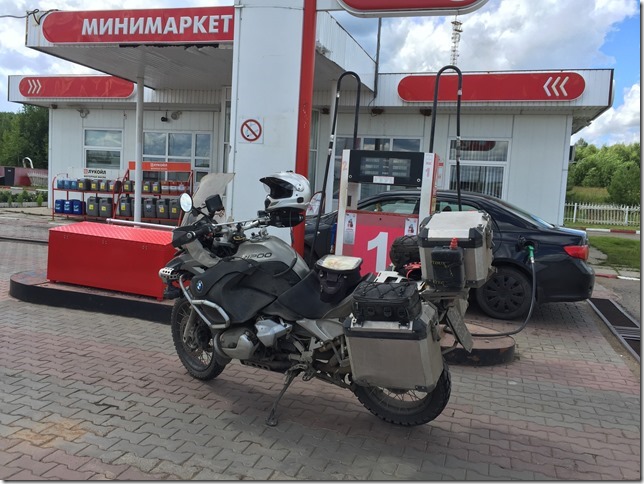 Just in the beginning of this unknown road section it was starting to look like rain again so rain suite on again…
Road from here looked a bit weird and after small asphalt section road turned into gravel road for few kilometers.
Then came sun again and I took off just my rain jacket. Road had became really nice new road which had no traffic at all.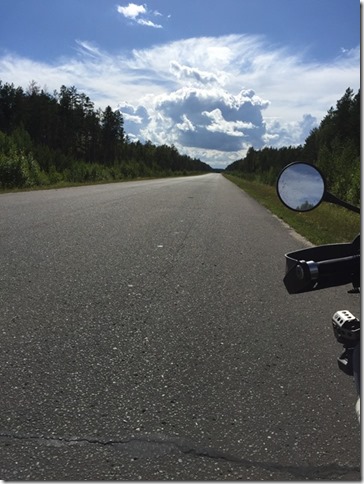 After driving this for a while there were some road work and my GPS took me through one small city where road turned first into small gravel road and then into smaller gravel path. At this point I should really turned back but it seems that during all these trips I still have not learned to do this and just drove forward.
And then started rain, this small gravel path turned partially into mud path and I was in trouble. Took quite a while until I got back into asphalt road again…
It was raining all the time and when I came into road junction where there was a sign showing that road ends I took a look what was there and turned out that one bridge was missing! This totally destroyed my planned route and I was forced to do rerouting in GPS. And this device is not at its best for doing this especially when having OSM on it and being in Russia. Level of roads what is visible on the screen is not that good, I need to zoom into very detailed level to be able to see all the roads, even bigger ones and then I loose the big picture.
For this purpose I have in my iPad another map product so I would be able to do on the road planning with that, but as it was raining I was not going to take that out.
Found a way, would make a big detour but had very little options. And this turned out to be right choice as other alternative would have taken me into very small roads. OSM was showing road through there as well, but when looking afterwards in Google map that was not showing anything. So this road might have been just a small muddy gravel road – or then perfect asphalt. There is no way of knowing this in Russia until you are there to see.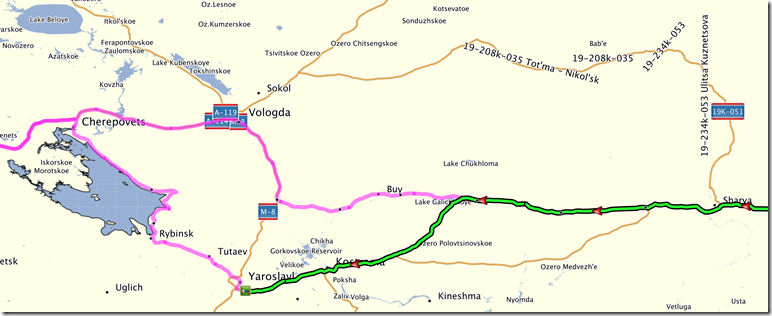 Of course there would have been the northern option as well, but at this point it was already too late. Original route would have taken me through Vologda, now I'm in Yaroslavl and moving forward from there tomorrow.
When arriving to Yaroslavl I started looking at a place to stay, tried two alternatives and they were full, then found one motel by the road and took a room from there. It had a café downstairs so no reason to look for food any further.
Bike parked in front of the entrance I went to room all wet to have a shower and then to eat.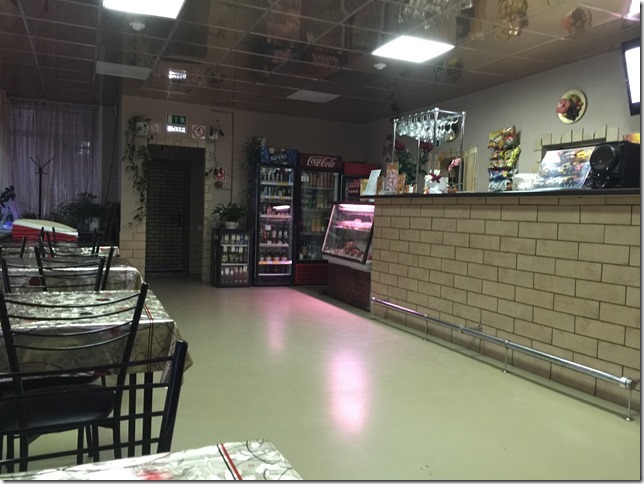 Food was normal café type of food, got me full and takes me through the night again.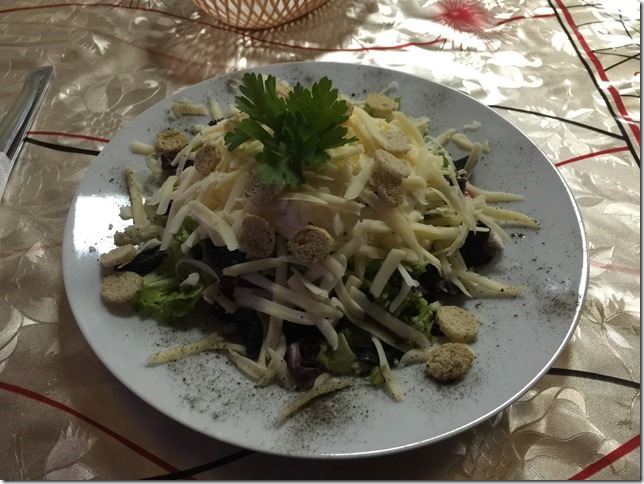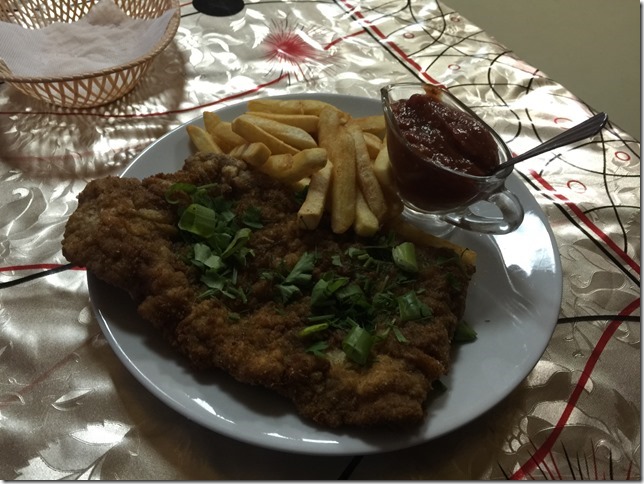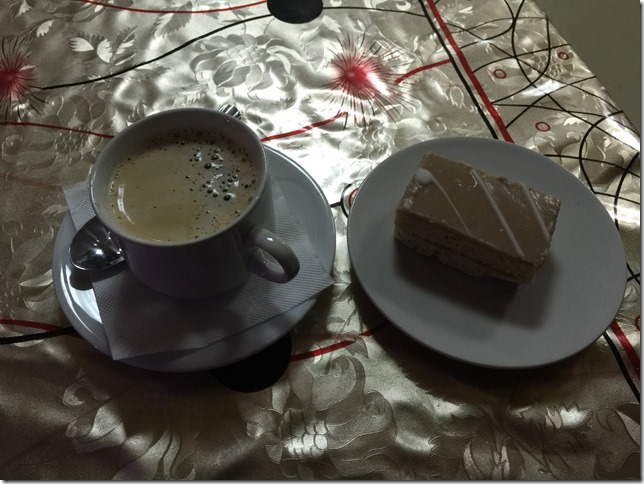 This day turned out to be 1136 km in 14,5 hours, quite a long day. I gained two hours when coming to Moscow time zone and time here is actually same as in Finland due to Finland being in summer time and Russia not.
This route is for sure something that I will use in the future, very little trucks and other cars on the roads.

Total for the trip is now 20914 km.

Although it was raining a lot my general feeling for driving was good. Weather was not too hot and roads were more enjoyable than on previous days.
I was a bit trying to squeeze more to get me closer to St. Petersburg today so there would have been possibility to get to Finland on tomorrow, but rain and this rerouting destroyed that plan. Well, tomorrow is another day again and it is to be seen how far I get tomorrow. Anyhow there is now too many kilometers left for me to get into Finland, so one more night somewhere in Russia.